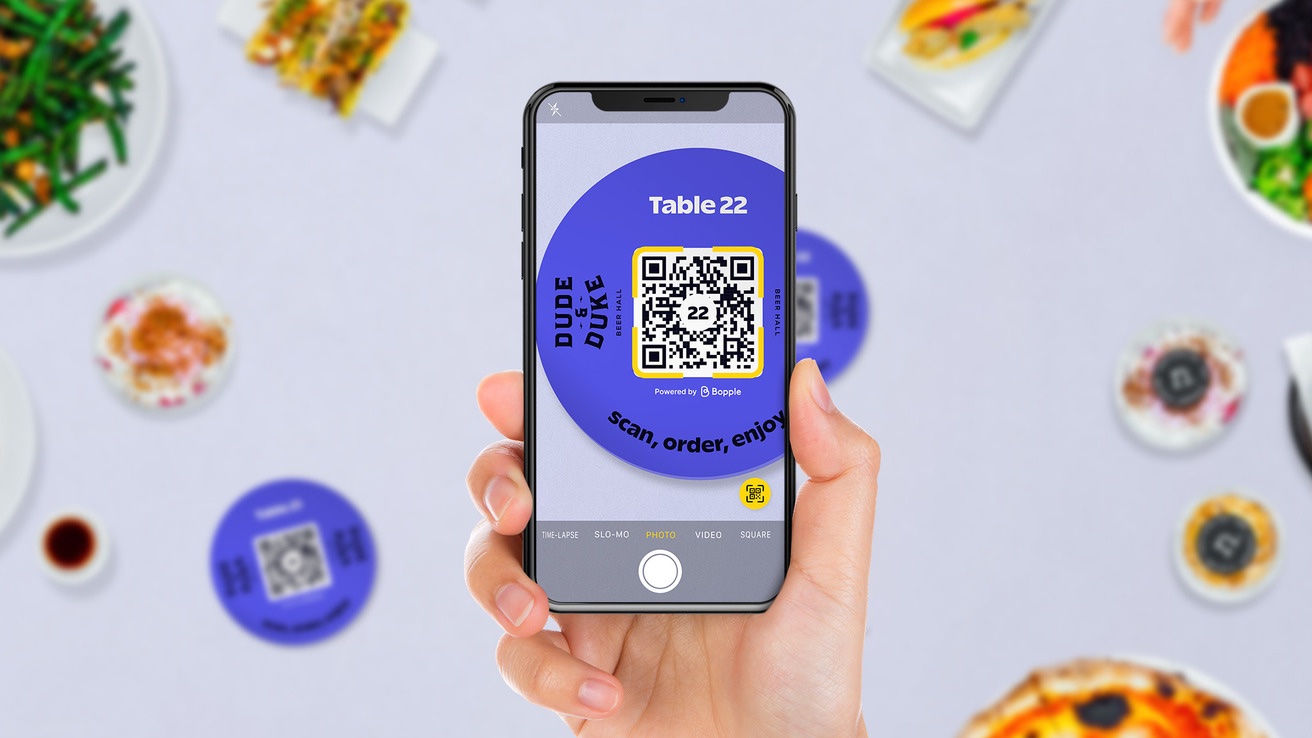 6 Ways QR Code Table Ordering Enhances The Customer Experience
Joel Brilliant
---
QR codes, they're everywhere.
From sports tickets to packaging, TV ads and hospitality venues, QR codes are increasingly utilised to provide information and communicate with customers.
Not so long ago, you'd be forgiven for not knowing what a QR code was. Circa 2019, QR codes were a defunct piece of technology that was seldom used or even thought about. Fast forward a few years (and one global pandemic), and QR codes have witnessed a huge resurgence - particularly in the hospitality industry.
Many hospitality venues have widely adopted QR code table ordering, and the benefits are wide-reaching for businesses. From alleviating staff shortages to reducing order errors and increasing average order value, QR code table ordering helps venues to streamline their operations and boost profits.
However, many hospitality business owners worry that QR code table ordering can detract from the traditional hospitality experience. And while it's true that QR code table ordering presents customers with a different experience, this doesn't necessarily mean a worse experience.
In fact, the majority of customers believe QR code table ordering enhances the customer experience, with 57% of Aussie diners now preferring a venue based on the availability of QR technology.
Another study found that 73% of diners agree that restaurant technology improves their overall guest experience. With customers seemingly unanimously agreeing on the benefits of QR table ordering, we dive into exactly how this technology enhances the customer experience.
Give customers control
Reduce queues and speed up service
Reduce order errors
Offer quick and flexible payments
Entice with images
Empower staff to focus on delivering a memorable experience
1. Give customers control
QR code table ordering places the power of ordering with the customer - they can decide exactly what they want to order, and when as they have ultimate control over the experience.

It's also easy for customers to re-order whenever they want to. Maybe they forgot to order a side, want another round of drinks or are ready for dessert. With QR ordering, there's no need to wait and catch the eye of waitstaff to place the next order - customers can simply rescan the QR code, order and pay.

Not only is this great for the customer experience, but it's also great for your bottom line! According to Lightspeed Ordering data, customers who order via a QR code or digital menu typically generate up to 30% higher spend.
2. Reduce queues and speed up service
87% of people who have used online ordering systems, such as QR ordering, agree that it makes their life easier.

Two major ways QR code table ordering appeals to customers is that it reduces queues at the bar or counter and speeds up service - making their lives easier.

The benefits for customers are twofold. For those who choose to order via a QR code, there's no need to wait or flag down a member of staff to order. Customers can simply place their order when they're ready, and it's sent straight to the kitchen for production.

For those customers who aren't comfortable ordering via a QR code, queues to order and pay will be drastically reduced, and it'll be easier to attract the attention of waitstaff, as there will be fewer customers placing direct orders with them.
3. Reduces order errors
74% of Aussies say a good ordering experience is a top priority when ordering food online.

When it comes to QR code table ordering, it's easy for businesses to reduce order errors and ensure customers always receive the correct order every time.

QR ordering places the responsibility of getting the order right (quite literally) in the hands of your customers. This dramatically reduces the risk of order errors and empowers your staff to focus on other, more important tasks.

As payment is also calculated and taken online, when the customer places their order, it also reduces the risk of any payment errors - if staff accidentally key in the wrong amount or add the incorrect item onto the bill, for example.

In a nutshell, QR ordering empowers businesses to create the seamless, hassle-free ordering experience that customers crave, making them more likely to order from you again.
4. Quick and flexible payments
Digital payments are on the rise, and the number of digital payment users is expected to rise from 3.8 million to 6.2 million by 2025.

Couple this with the fact that 56% of Australians believe that contactless payment options would make them feel more comfortable dining out, and it's clear that customers now expect to enjoy a safe, quick and convenient payment experience. And, QR code table ordering offers just that.
With QR ordering, customers pay online with their credit card or ApplePay or GooglePay on their phone. Not only are these payments quick and secure, but they're also super convenient - customers don't even need to leave their seats to pay for their meals.
5. Entice with images
Food photography is a booming trend from social media to digital menus, and consumers are often presented with beautiful photos of delicious-looking dishes. With QR code table ordering, customers can easily view pictures of your dishes, alongside descriptions, on your digital menu.

Letting customers see what your dishes look like is a great way to entice them to make a purchase and sets expectations of what the dish will be like.

For customers, there's nothing worse than being disappointed with the food they've ordered - maybe the dish is too big, too small, or just not how they imagined. Therefore, adding photos to your digital menu lets customers understand more about what they're ordering.

Adding good-quality photos of your dishes to your digital menu can increase sales by 30%. While this is excellent news for your bottom line, it also emphasises how customers prefer to see what a dish will look like before purchasing.

After all, we eat with our eyes, and visual representations of your dishes on your digital menu can hugely impact a customer's experience.
6. Empowers staff to focus on delivering a memorable experience
With 76% of consumers saying they'd rather spend their money on experiences than material items, ensuring your team provides impeccable customer service, time after time, is a surefire way to encourage repeat business.

As we've seen, there are numerous ways in which QR code table ordering can enhance the customer experience. However, one of the most significant ways QR ordering can help create a memorable experience for your customers is by giving your staff the power of time.

When QR ordering is implemented in a venue, staff are no longer bogged down with having to take orders and payments. Instead, they've got more time to focus on the customer to ensure they have the best experience possible.
Get started with QR code table ordering
With Bopple, it's quick and easy to set up QR ordering in your venue. Generate QR codes for your tables from Back Office or order branded QR codes today and start selling!
It's also possible to offer order ahead and delivery, plus it's super easy to update your digital menu, add promotions and make customisations all from the same platform – meaning minimal disruption to your operations.
Start, run and grow your business with Bopple to unlock more sales and an enhanced customer experience.
Create your online store & digital menu for free in seconds
Offer delivery, order ahead and QR code table ordering
Manage everything from the same platform
Quickly generate QR codes and website links
0.8-1.8% rates, including tax
Complete control of your store, sales and customer data - no third-party platform to manage
Same-day payouts, no lengthy delays
No lock-in contract or terms