---
Everything your customers need in one simple, mobile-optimised page. Your free Bopple Bio allows you to create a personalised and customisable page that houses all the important links that you want to share with your audience. It's a link-in-bio solution that can be used on social platforms like Instagram, TikTok, Twitch, Facebook, YouTube, Twitter, LinkedIn, and more.
Your Bopple Bio is an extension of your brand. We've taken your branding and theming from your online store so your customers feel right at home. This means you can share your Bopple Bio link anywhere you like and your customers will instantly recognise your brand. Add your unique URL to all the platforms and places you find your audience.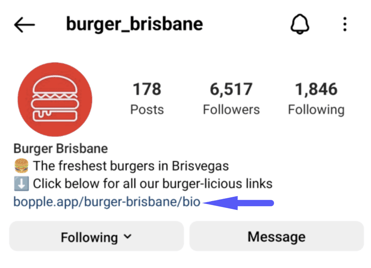 Head over to your Bopple Back Office now to link your socials, website, book a table, and more. Bopple Bio gives you one place to showcase all your links, free forever.
Don't have an account? Sign up here