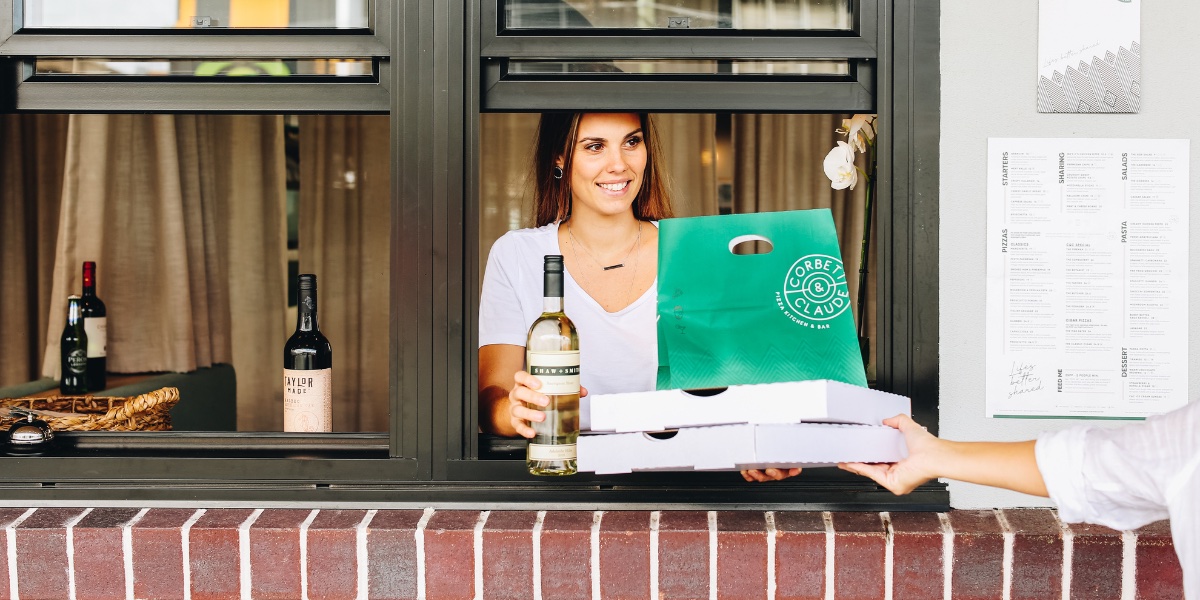 5 Ways Online Ordering Drives Revenue And Boosts Profits
Joel Brilliant
---
In our fast-paced, digital-driven world, convenience is king, and customers crave options. Gone are the days when simply offering dine-in was enough to satisfy the average customer's appetite. From QR code table ordering to delivery and order ahead, the way customers order and interact with their favourite hospitality venues is changing.

To meet these evolving customer expectations, over 80% of restaurants are turning to technology to help them run their business. And, with 93% of Aussies reportedly ordering food online for pickup at least once in the past month (an average of 3.2 times), many hospitality businesses are adopting online ordering software to meet this surging demand.

However, with skyrocketing operating costs and razor-thin profit margins, many venues are, understandably, sceptical about the revenue online ordering channels will generate versus the cost of paying for the platform.

To alleviate these concerns, we've crunched the numbers and deep-dived into recent industry trends and statistics to understand the five ways online ordering drives revenue and boosts profits.
Online ordering increases customer spend by up to 30%
Diversifying your services reaches more customers
Upsell workflows can boost order value by 32%
Memorable experiences promote repeat purchases
Printing reduced by 60% with Smart Batching


Online orders increase customer spend by up to 30%
Compared to traditional dine-in orders, Bopple data shows that, on average, customers spend 30% more when placing an online order via a digital menu.
There are a couple of theories as to why customers consistently spend more on online orders.
People have longer to choose what they want to eat.

Compared to traditional menus, where people typically scan and make a decision in a matter of minutes, digital menus afford customers more time to browse and make a decision. This often results in cravings for more than one item, which results in more items being ordered.

People feel freer to order what they really want.

Online ordering takes away the fear of judgement when ordering food, so people feel freer to add a side, extra cheese or make their meal a large.
Paying on your phone encourages higher spend. Research has found that the impact of spending feels less significant when purchasing on a mobile device than purchasing in person with cash or card - meaning people are likely to spend more when purchasing from their phone.
No matter the reason, data from across the industry supports the fact that customers spend more when ordering food online. Therefore, adding online ordering to your services is a surefire way to drive revenue and boost profits.
Diversifying your services reaches more customers
According to Statista, 43% of people order food online because they don't like cooking. That's a huge pool of potential new customers who are actively searching for restaurants online to order food.

A recent survey of Australian diners also found that:
93% of people report ordering for pickup at least once in the past month - an average of 3.2 times per month.
71% of people have ordered delivery at least once in the past month - an average of 2.6 times per month.
69% of customers report dining out 1+ times in the past month
Therefore, having an online ordering system that offers a range of services - from order ahead to delivery, automatically opens up a whole new pool of potential customers. Plus, if new customers order online and enjoy their experience, they may decide to visit you in person or at least order from you again.
The same survey also found venues that offer order ahead for pickup see an average of 89% more orders per month. This further emphasises how offering a range of ordering services via an online ordering system is an excellent way for hospitality businesses to reach more customers and drive profits.
Upsell workflows can boost order value by 32%
Online ordering systems make it easy for venues to create upsell and cross-sell workflows within a digital menu to encourage customers to make profit-boosting purchases. For example, Bopple data shows that, on average, the percentage increase in sales that include upsells is 32%.
According to research conducted by the National Restaurant Association, 35% of consumers agree that it's easier to customise their order on a restaurant's site or delivery app than when they're dining in.
When dining in, waitstaff might forget to ask if customers would like to upsize their meal, add a side, or customise their meal. However, because it's easy to build upsell and cross-sell workflows within your digital menu, customers can quickly customise their meals or add sides for a small additional cost – bumping up your average spend.
Bopple has a Smart Upsells feature that utilises AI to drive higher spend on every order.
For example, if a customer is ordering food on your digital menu, Smart Upsells will offer them something to drink. On the other hand, if a customer is ordering drinks, it will recommend they add a food item to complete their order. If the order already includes food and drink, the algorithm will offer up a selection of other complimentary items.
Smart Upsells uses in-depth ordering data to select which items are shown to customers, such as what order type the customer has selected, what time of day it is, and which of your products are getting the most love.
After introducing Smart Upsells, Comuna Cantina made an extra $8,000 in online ordering revenue over a two-month period.
Memorable experiences promote repeat purchases
74% of Aussies say a good ordering experience is a top priority when ordering food online. Therefore, creating a memorable, hassle-free online ordering experience for your customers will go a long way in fostering a positive association with your business – making customers more likely to order from you again.
When it comes to online food ordering systems, businesses can expect to minimise their order errors and reduce food waste while also boosting staff efficiency - all of which have an impact on your bottom line.
While phone orders are still important for many food businesses, writing complex orders with pen and paper means a higher chance of making mistakes. Online food ordering systems mitigate the risk of order errors caused by your staff mishearing an order or jotting it down incorrectly.
"With less people on the phone, it increases your output and saves time – you make less mistakes." – Paul Slee, Tankk Fish & Chips
Plus, online orders place the responsibility of getting the order right (quite literally) in your customer's hands - dramatically reducing the risk of order errors and empowering your staff to focus on other, more important tasks.
If your customers receive a great online ordering experience, they'll be more likely to seek you out, visit in person and tell their friends – which means more repeat business and revenue for your venue.
Did you know? Venues that use Bopple see an average online sales increase of $5,551 per month.
Reduce printing costs and dockets by 60% with Smart Batching
In the hospitality industry, every cent counts, and if you can cut down on small but regular costs, then this will have a positive impact on your bottom line throughout the year.
Online ordering comes hand in hand with digital menus, which means you can cut down on your menu printing costs. Daily specials can quickly and easily be added to your digital menu without having to print new ones, and the same goes for seasonal menus and takeaway flyers.
Plus, with online ordering, there's no need for paper receipts, as all order receipts are sent directly to the customer's email address.
The same goes for docket printing in the kitchen. Thanks to Bopple's Smart Batching feature, which helps optimise operations and reduce the clutter of multiple order dockets, venues have reduced their docket printing by 60% - again saving on the small but regular cost of docket paper.
"Our operational workflow in the kitchen has been much more efficient since Smart Batching." - Pablo, General Manager at Comuna Cantina.
Grow your sales with Bopple
With Bopple, it's easy to sync your online orders straight to your POS and kitchen printer – just like a traditional dine-in order. It's also super easy to update your digital menu, add promotions and make customisations all from the same platform – meaning minimal disruption to your operations.
Start, run and grow your business with Bopple and unlock more sales.
Create your online store for free in seconds
0.8-1.8% rates, including tax
Full control of your store, sales and customer data
No third-party platform to manage
Same-day payouts, no lengthy delays
Accept prepaid orders from mobile apps and your online web store
Loyalty built-in
No lock-in contract or terms
Sign up to Bopple today!