---
As we've moved into March we're back with another update to let you know about the improvements we've made to the platform over the last few weeks.
We're excited to deliver more powerful features to help you streamline your service and create meaningful experiences with every customer.
Create different menus for dine-in, pick-up and delivery.
Need to limit alcohol sales to dine-in only? Maybe you can sell alcohol for takeaway, but not your cocktail menu? Perhaps you just have some items from your food menu that don't travel well for delivery? Problem solved. You can now limit what parts of your menu can be ordered for dine-in, pick-up and delivery. Take full control of your online menu today.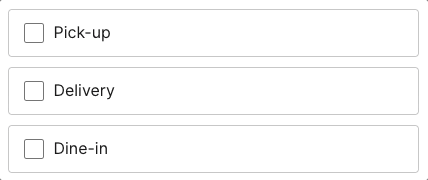 Put your stock management on auto-pilot.
You can now automatically restock an item the following day when you mark it as sold out in Orders Manager. Perfect for those popular items that you produce on a daily basis in limited quantities. One less task for you, and no more - "damn, I forgot to re-enable it" - missed sales. Say goodbye to manually restocking items. We've got some other powerful inventory management features in the works, so stay tuned.
Make your dine-in checkout experience even faster.
Have you ever wondered why your customers need to enter their last name and phone number when ordering dine-in? If all you need is a first name and table number, you can now remove the other fields from the guest checkout to make dine-in ordering faster and easier than ever before. Streamline your dine-in checkout now.

If you have any feedback or suggestions on how the platform can better help you start, run and grow your business, we'd love to hear from you. Use the Make a suggestion option on the Dashboard section in your Back Office, and you'll be the first to know when we're working on any features you suggest.