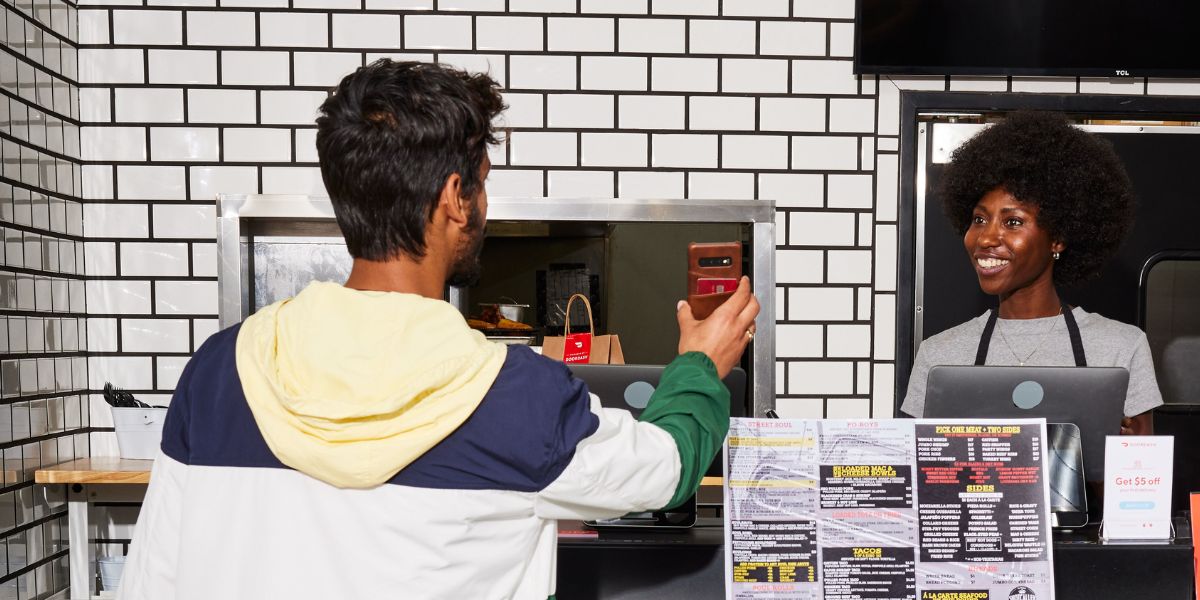 Increase sales and revenue when you enable DoorDash Drive
Joel Brilliant
---
It's been over a year since we launched our integration with DoorDash Drive, and gave the opportunity for business owners to offer delivery, without paying exorbitant marketplace fees (which have increased by 4% in the last month 😳). We've seen businesses have great success offering delivery to their direct customer base and saving thousands of dollars not paying commission fees.
Increase sales, not menu prices
Operators have used creative ways to incentivise their customers to order directly through their Bopple online store, instead of the marketplaces. A standout idea we've seen was venues adding flyers in takeaway bags telling their customers "Order delivery by scanning this QR code and see our real delivery prices.". It's common practice these days to increase menu prices on marketplace listings because of the huge commission fees, so we found this little marketing idea pretty creative and a great way to incentivise your customers to order directly with you.
Don't get us wrong, we definitely understand why marketplaces charge a commission. It's a marketing fee. However, there are plenty of other great ideas to get customers to order directly from you. If you pride yourself on great customer service, think about getting some thank you cards printed, which you can pop in every online order for pickup or delivery. These little gestures might not seem like much, but it's a great way to remind your customers that you appreciate their regular business and that there's still a human behind the order.
DoorDash Drive improvements
Since launch, we've also made some big improvements to the Drive integration and we will continue to work with DoorDash on making sure the integration is world-class and improving.
Increased driver availability
We have now unlocked the full DoorDash driver network including cars, along with motorbikes/scooters, bicycles, and walkers for local delivery.
Increased pickup time accuracy
We have made various optimisations to improve the accuracy of driver arrival times, based on the preparation time assigned to each order.
Full visibility of delivery status in Orders Manager
You now have complete visibility over the status of all your DoorDash deliveries within Bopple Orders Manager, including live driver arrival times.
Driver contact number in
Orders Manager
You can now access the driver contact number in Bopple Orders Manager, for any situation where there might be a delay or problem with the pickup.
Continual performance monitoring
Updated internal reporting so that Bopple operations team can identify further improvements to continually improve the experience for your team and your customers.
Upcoming DoorDash Drive improvements
DoorDash error visibility in Orders Manager
You will see specific error messages in the rare event that DoorDash fails to receive a delivery request, or needs to cancel a delivery for any reason, allowing you to take action.
DoorDash issue notifications in Orders Manager
Orders Manager for iOS and Android will send you push notifications any time there is an issue with a delivery request or delivery job in DoorDash.
Expand your reach to new customers and boost revenue without the overhead and liability. Built with flexibility in mind, you can choose to pass the entire cost of the customer delivery fee on or offer a discount delivery rate — you're always in full control. In addition, you can customize your delivery area, set delivery hours, and turn delivery on and off when you need to.
Whether you're using in-house drivers or DoorDash Drive to deliver your orders, the customer experience looks and feels the same — an extension of your own service.
Don't have a Bopple account? Sign up today