---
As a venue owner or operator, there is always something to do. Prioritising tasks is a constant juggle, and customers take the number one spot. Working
on
the business takes a backseat to working
in
the business when you are the owner and operator.
Marketing can be overwhelming at the best of times, and the world of marketing is ever-changing
.
Marketers consider algorithms, trends, paid placements, platforms and audience, and the time to create and share content
. It doesn't have to be that complicated.
Plan ahead
You've heard the saying "failing to plan is planning to fail" but when it comes to marketing your venue, it is easy to get overwhelmed and put off marketing tasks to another day that never quite comes. Instead of trying to wing it, set yourself up for success with a structure to your marketing activities.


Create a marketing calendar with your goals, photo shoots, holidays, upcoming events, and paid PR and media campaigns

. You'll be able to see ahead of time what's coming up and plan for it.

Schedule marketing time in your week to create content, batch and schedule posts, and review any reports and analytics

. Do a couple of weeks in advance so you always have some content up your sleeve.

Respond to any social media comments in pockets of your day so there's not too much wait. It's a lot harder to squeeze the rest in around service, but social media works best when you can jump in and reshare or reply.
Use your calendar to organise your content by the platforms you use such as Facebook, Instagram, and email marketing services. Include the special days that are coming up for your business as they provide opportunities for promotions and content. These might be National Food Holidays, significant dates in your local community, or public holidays. This is a great time to make sure your special trading hours are up-to-date in Venue Manager as well.
Goal setting
What are your aims for your marketing activities? Are you trying to attract new customers or returning customers?
Are you launching a new delivery partner like
DoorDash Drive,
brand new function packages, or aiming to increase your spend per head
. Pick one or two goals and focus on them, instead of trying to tackle several goals at once. This approach means your energy is directed and you will get much better results than spreading yourself across multiple things. Once you have decided on your goal, set a deadline, and build your marketing activities around it.
Create an ideal customer — also known as a buyer persona — to target your marketing activities toward them
.
Yes, you want to welcome everyone in to your venue, but by attempting to market to everyone, no one will feel like you're talking to them
. Use your customer data and social insights to figure out who your average customer is. Include their age, occupation, location, income, typical order, and buying behaviours.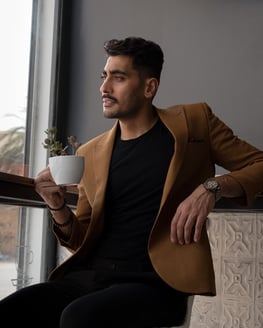 Name: Chris
Age: 39
Occupation: senior consultant
Location: inner-city suburb
Income: ~$100k
Typical order: Latte with an extra shot
Buying behaviour: Chris picks up coffee on his way into the office. He sometimes hosts client coffee meetings or treats his team to morning tea.
Now you know more about Chris, you can start to figure out ways to market to him. What about ready to go breakfasts, express lunches, or office catering?
The more you get to know your ideal customer, the better you can serve them. If "Chris" has a family, particular workout habits, or even a birthday coming up, there are extra ways to market to him.
If you have support for marketing administration, social media, or photography, project management tools can help you stay on track and delegate tasks
. You can use free tools like Asana for project management, Canva for design, and Mailchimp for email marketing. Bopple lets you keep control of your customer data so you can email customers who have opted-in. We also have printed marketing materials with your storefront QR codes available too!